Visit Guilderton
Things To See & Do, Food & Wine, Accommodation, Getaway Accommodation, Discover, Getaway, Things To See & Do
Gorgeous Guilderton - The best things to see and do in this coastal town
Are you longing for a little weekend getaway? Dreaming of a short break or the possibility of spending several days away from the hustle and bustle of city life? If the answer 'yes' immediately comes to mind, then Guilderton, WA, is the picture perfect place to visit. Guilderton is a picturesque coastal town located approximately 100 kms north of Perth. A unique nature based destination offering a near undeveloped pristine environment. Guilderton caters for both adventure seekers and those who enjoy a more relaxed atmosphere when on vacation. The Moore River Region boasts an array of activities for both young and old, the adventurous, and those who wish to soak up the magnificent scenery spending lazy days on the beach. Below we have highlighted a few of our favourite places to explore and experience, which means you can do as much or as little as you like.
Get outdoors and Explore
If indulging in outdoor activities is on your agenda, then there are oodles of outdoor pursuits for you to experience. Head east for the day and discover the Yanchep National Park. You will soon discover winding trails and hikes suitable for all abilities along with an abundance of wildlife. Why not experience the under-water world and go snorkeling/diving. There are numerous limestone and coral reefs to explore along with several shipwrecks which are located between Two Rocks and Jurian Bay. If being above water is your preferred method of adventure, then why not hire a standup paddleboard or kayak? Gliding across the calm waters of the Moore River estuary is definately a paddler's dream. You can always view the region from a different perspective and take a scenic helicopter tour. An unforgettable experience will see you flying over native bushland, wetlands, national parks, stunning coastlines and pristine beaches.
The above mentioned are only but a few examples of what is on offer in and around Guilderton. Further outdoor adventures and experiences can be found here.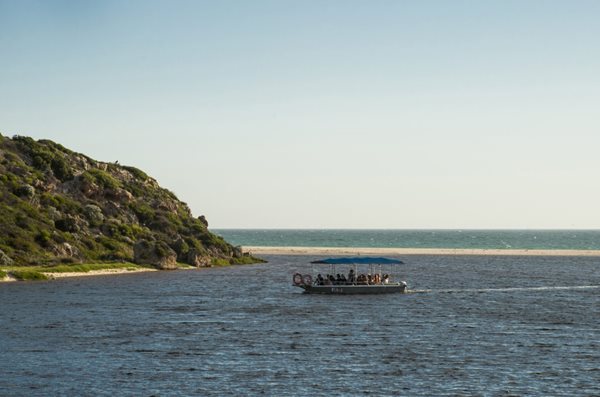 Feeling Peckish?
The quaint coastal town of Guilderton offers a few places where you can grab a bite to eat and experience local produce at its best. Café Amore is located at the mouth of the beautiful Moore River. Here you can indulge in a barista made coffee and a scrumptious brekkie. There is also the Moore River Roadhouse if you are craving a heartier meal. An eclectic menu is on offer ranging from burgers and fish and chips to pizzas and local seafood. The Seabird Sunset Café offers stunning views over the ocean. A fabulous place to dine and relax whilst watching the sunset.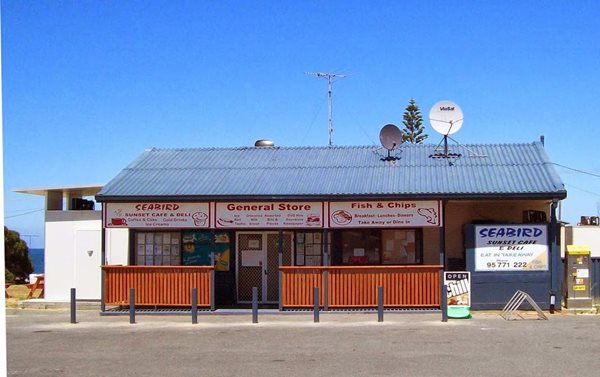 Family Fun Activities
If you're looking for fun filled activities for the whole family then Guliderton is the place to be. Family fun activities include, but are not limited to: visiting the Guilderton Bowls Club for a friendly round of lawn bowls. The Gravity Discovery Centre and Observatory is a fascinating destination where the entire family can explore science and witness the stunning night skies through a different lens. Another unique spot is the Mungala Alpaca Stud Shop. Here you can delight in all things alpaca! Gingin Railway Station is a beautifully restored historic building. It offers tourist information, antiques, collectables, local products and a home-style café.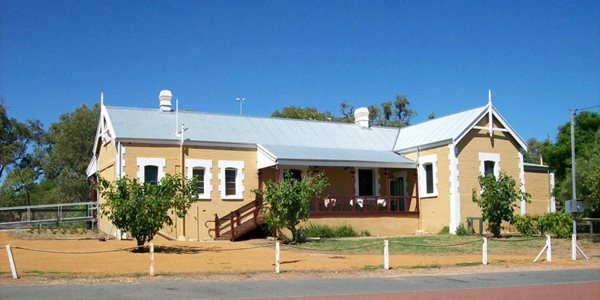 Guilderton offers a great getaway destination and suits all types of travelers. A definite for your 'must visit' list. The Guilderton Holiday Park is one of the best (and only) places to stay and is positioned right on the mouth of the Moore River providing an almost undiscovered retreat, just metres from one of the most peaceful and scenic stretches of the West Australian Coast. If you're looking for luxury style accommodation there are several houses available via Stayz, however nothing beats the almost direct beach access of the Holiday Park. Summer is fast approaching. It's an ideal time to plan an escape to the beach. The perfect short getaway.